My TED Ed Club goes to TEDx Jakarta at Tsu Chi International School, Pantai Indah Kapuk! In this blog post, I will share the 'nuggets' of the ideas worth spreading at TEDx Jakarta here!
Registration
TEDx Jakarta used randomization system to select their participants. There were two batches registration. I got accepted since the 1st batch, however my students didn't. After failing in the second batch, we tried to contact TEDx Jakarta and let them know that we came form TED Ed Club. Surprisingly, TEDx Jakarta replied our email and they gave us 3 tickets for our club as community representations. Thanks to TEDx Jakarta!
So, here we are at TEDx Jakarta.
If you want to come to future TEDx Jakarta, please subscribe here:
Speakers & Sessions
It was the whole new experiences. Love the excitement. Love the atmosphere.
"HIDDEN PARK REVEAL HIDDEN GREEN & CREATIVE LIFE"
TEDx Jakarta presentation began with @NayNadine from @hiddenpark inspired us to learn city parks reviving.
"EXPLORING PASSION IN LIMITATION"
The second speaker, Angki Purbandoro, a visual artist share how his time in prison teach reflection and inspiration. He also inspired us that he'd love to be a rubber, elastic and remind stightly.
"THE RICHNESS OF INDONESIAN CULINARY"
Third speaker: Rahung Nasution is sharing about the richness of Indonesian culinary which make me stunned Indonesian food is more diversed that you can imagine.
After the third speaker, we watched TEDx video: Learning Chinese with 8 characters. This video blew me away with the spirit of learning Chinese using this method!
"THE ART OF INDONESIAN FOOD"
Fourth Speaker : Chef @andrianishak was sharing about his passion in experimenting with Indonesian food. He inspired us creative usage of liquid nitrogen. In the picture, Andrian Ishak is demonstrating molecular gastronomy using liquid nitrogen.
"THE IMPORTANCE OF SHRIMP HEALTHY"
Fifth Speaker: Ibu Sidrotun Naim, the shrimp physician, PhD from Harvard University shared her research on shrimp disease that help understand the importance of shrimp for our national economy.
"CONQUERS DESPERATION WITH HOPE"
Sixth Speaker: Taufan community showed how love at @KomunitasTaufan conquers desperation and give new hope to many children.
"SACRIFICE, STRUGGLE, SURVIVE, SUCCESS"
Seventh Speaker: Inspiring musician Andy Wirianto showed 4s in life: Sacrifice, Struggle, Survive, Success through his unique personality.
After the amazing speakers in the second session, we watch the power of Bionic to maximize human life.
Then, the committee also invited me to come up to the stage to introduce TED Ed Club Jakarta! What a privilege!
At that moment, I shared what TED Ed Club is and how we can open TED Ed Club in our school. If you want to sign up as TED Ed facilitator, you can click here ed.ted.com. Please feel free to explore my adventurous TED Ed Club story here:
"LIMITATION IS THE CANVAS OF CREATIVITY"
The eight speaker is my favorite speaker! They are simple happy family who never give up to use limitation as a canvas of creativity. Yes, It's Pinot family! They shared the power of magicality through animation they made. They even were creating a vine post while presenting. I love how this family collaborate to show the world how simplicity can make a difference.
"DEEPER LEARNING JOURNEY"
The ninth speaker, Peter Carey share his amazing passion to learn unique character in Indonesian History: Pangeran Diponegoro. Spending 30 years to learn Pangeran Diponegoro is really long journey!
Then, we watch another inspiring TEDx Video about real life story of a lady who fight democracy using internet.
"Democratic in Internet era"
"DETAIL IS REQUIRED INGREDIENT OF EXCELLENCE"
Our final speaker, Ronny Gani (CG Animator) explained the importance of detail in animation. What surprised me is if you want to become animator, you need to observe many things from human and object movement in detail. He really inspired me the meaning of detail in doing your passion.
It's a wrap! All TEDx Jakarta Speakers & Volunteers! It's a total privilege to learn with all of them!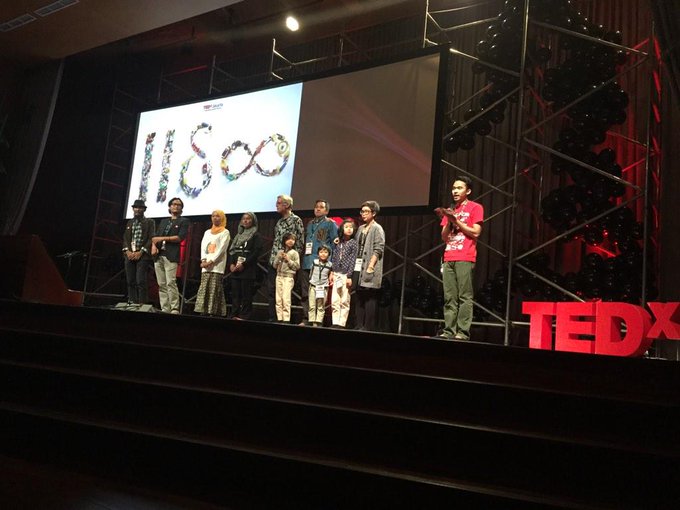 This is recap of the event! Enjoy!
I am amazed at how TEDx Jakarta committee make all this ideas worth spreading! Thank you for your super hard work, TEDx Jakarta committee!
See you at next TEDx Jakarta in 2015!
References:
Almost all of the pictures I took from TEDx Jakarta event site. Click here to get complete pictures & tweets.