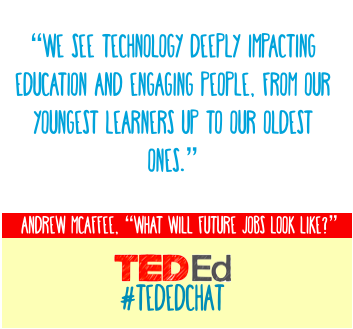 Source Image: @TEDEdClub #TEDEdChat
Some people assumed internet is not suitable for children because they often bring negative such as addiction, game, pornography, and all harmful contents for students. In effect, internet is often banned from school or educational institutions. Yet, our children still use internet outside school and it multiplies the problems because children know internet as enemy of education.
I believe when we don't teach children using internet positively, that becomes the main reasons why our children use internet negatively. Our children have never known how internet could bring positive impact because we as teachers/parents never teach them how to use internet properly.
In fact, we need to teach our children how internet could be used for learning, sharing, and connecting people as it's used by many people in the world. If you're a teacher, you need to show your students how to use internet to your students.
Here's a glimpse how we can model our students using internet positively.
1. Connecting People
This is how I use internet to learn and share without facing any traffic problem.
2. Storing, Syncing, and Sharing Digital Content easily and effectively
With internet, you can save your data on cloud, and it's super easy to access it anywhere and anytime.
Source Image: http://maxcdn.googletutor.netdna-cdn.com/wp-content/uploads/2012/04/google-drive1.jpg
3. Online Field Trip
You can explore the beauty of the world using Maps & Street View …using internet.
Source: http://www.geek.com/wp-content/uploads/2014/01/street-view-2.jpg
4. Build Collaborative Content
Work together to plan something cool, arrange event, write papers and proposal.
Source Image: http://iteach.community.uaf.edu/files/2012/03/GoogleDocCollab.png
Why do we need to tell positive impact of internet?
1. Inspire children, teacher, parent, and people around the world for using internet for positive purposes.
2. Encourage our government and IT companies to support the infrastructure so we can get fine internet connection.
How do you spread the positive impact of internet?
Use #internet4edu to share how you use internet for education. Start sharing simple things like I did on the above examples. Tweet and share post, pictures, and video on how you could use internet for education. Inspire people with the way you use internet for education!
Source Image: @TEDEdClub #TEDEdChat
It's time to promote the use of internet for education! Watch my video about how we can do this together!
Stop telling your children internet is bad if you have never taught them how to use internet for good. Let's spread #internet4edu !